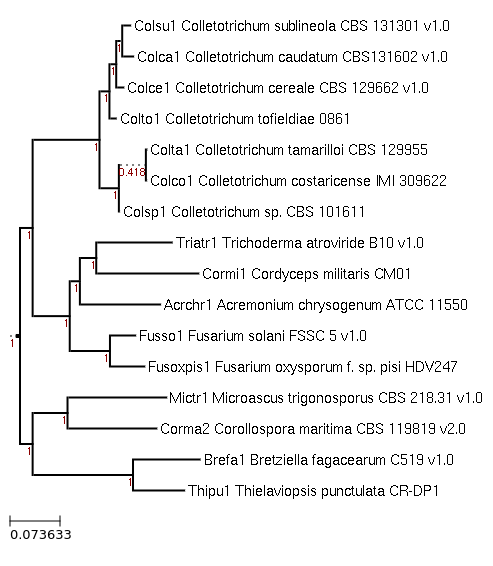 The genome sequence and gene models of Thielaviopsis punctulata CR-DP1 were not determined by the Joint Genome Institute (JGI), but were downloaded from Ensembl Fungi on April 11, 2020. Please note that this copy of the genome is not maintained by Ensembl and is therefore not automatically updated. The JGI Annotation Pipeline was used to add additional functional annotation to the author's chromosomes and proteins.
Genome Reference(s)
Please cite the following publication(s) if you use the data from this genome in your research:
Wingfield BD, Ades PK, Al-Naemi FA, Beirn LA, Bihon W, Crouch JA, de Beer ZW, De Vos L, Duong TA, Fields CJ, Fourie G, Kanzi AM, Malapi-Wight M, Pethybridge SJ, Radwan O, Rendon G, Slippers B, Santana QC, Steenkamp ET, Taylor PW, Vaghefi N, van der Merwe NA, Veltri D, Wingfield MJ
IMA Genome-F 4: Draft genome sequences of Chrysoporthe austroafricana, Diplodia scrobiculata, Fusarium nygamai, Leptographium lundbergii, Limonomyces culmigenus, Stagonosporopsis tanaceti, and Thielaviopsis punctulata.
IMA Fungus. 2015 Jun;6(1):233-48. doi: 10.5598/imafungus.2015.06.01.15