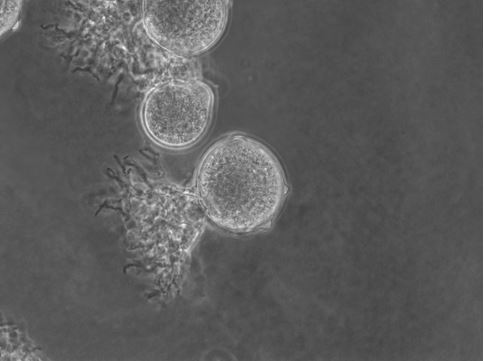 Triparticalcar arcticum (BR59) is an endogenous, inoperculate chytrid species cultured from pine pollen baiting of a clay soil sample taken along the shore of Laze Hazen, Ellesmere Island, Nunavut, Canada. At the time of the species' description in 1970, this location was considered to be the most northerly site from which a chytrid was isolated. Donald J. S. Barr, upon the original description of the species as Phlyctochytrium arcticum, documented how its morphology on pine pollen bait was very different from that of the same culture on nutrient agar medium. Barr also conducted multiple physiological tests on this species, distinguishing it from other species of Phlyctochytrium, in an effort to justify the description of "yet another new species of chytrid". Though originally placed in this genus, Barr called this and other soil-inhabiting species the "Phlyctochytrium complex", due to their dissimilarity to the type species of the genus, P. hydrodictyi, a poorly known aquatic species. In 1980, Barr segregated the Spizellomyctales from the Chytridiales based on zoosporic ultrastructural characters, retaining Phlyctochytrium in the latter order, but describing members of the "Phlyctochytrium complex" as new genera in the Spizellomycetales. Thus, P. arcticum was renamed Triparticalcar arcticum, a name indicative of the elongated tripartite spur, composed of three microtubules surrounded by densely-staining material, which emanates from the flagellar apparatus towards the anterior of the zoospore. Until recently, this genus was monotypic, but T. equi was described in 2016 from a horse manure sample collected in Alabama, USA. Triparticalcar arcticum BR59 remains the most-northerly collected species, has retained its viability, and its extensive taxonomic, experimental, and observational history makes its reference genome of interest for phylogenetic, physiological, and ecological studies.
Genome Reference(s)
Please cite the following publication(s) if you use the data from this genome in your research:
Amses KR, Simmons DR, Longcore JE, Mondo SJ, Seto K, Jerônimo GH, Bonds AE, Quandt CA, Davis WJ, Chang Y, Federici BA, Kuo A, LaButti K, Pangilinan J, Andreopoulos W, Tritt A, Riley R, Hundley H, Johnson J, Lipzen A, Barry K, Lang BF, Cuomo CA, Buchler NE, Grigoriev IV, Spatafora JW, Stajich JE, James TY
Diploid-dominant life cycles characterize the early evolution of Fungi.
Proc Natl Acad Sci U S A. 2022 Sep 6;119(36):e2116841119. doi: 10.1073/pnas.2116841119