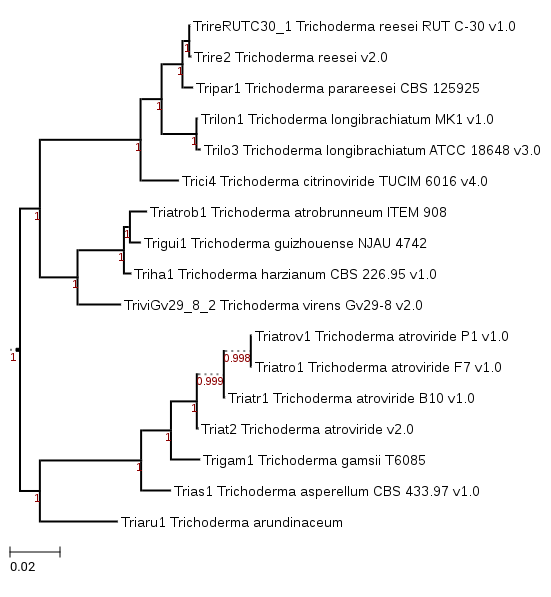 The genome sequence and gene models of Trichoderma arundinaceum IBT 40837 were not determined by the Joint Genome Institute (JGI), but were downloaded from NCBI on Dec 4, 2018 and annotation provided by the authors. In order to allow comparative analyses with other fungal genomes sequenced by the JGI, a copy of this genome is incorporated into Mycocosm. JGI tools were used to automatically annotate predicted proteins. Please note that this copy of the genome is not maintained by NCBI and is therefore not automatically updated.
Genome Reference(s)
Please cite the following publication(s) if you use the data from this genome in your research:
Proctor RH, McCormick SP, Kim HS, Cardoza RE, Stanley AM, Lindo L, Kelly A, Brown DW, Lee T, Vaughan MM, Alexander NJ, Busman M, Gutierrez S
Evolution of structural diversity of trichothecenes, a family of toxins produced by plant pathogenic and entomopathogenic fungi.
PLoS Pathog. 2018 Apr 12;14(4):e1006946. doi: 10.1371/journal.ppat.1006946. eCollection 2018 Apr.