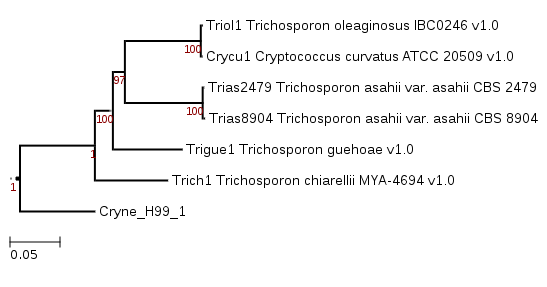 Trichosporon is a genus of anamorphic fungi in the family Trichosporonaceae (Tremellomycetes). All species of Trichosporon are yeasts with no known teleomorphs. Most are typically isolated from soil, but several species occur as a natural part of the skin microbiota of humans and other animals. Trichosporon asahii CBS 2479 was isolated from a female patient with erythematous plaques in China.
The genome sequence and gene prediction of Trichosporon asahii var. asahii CBS 2479 have not been determined by the JGI, but were downloaded from NCBI on June 1, 2017. In order to allow comparative analyses with other fungal genomes sequenced by the Joint Genome Institute, a copy of this genome is incorporated into Mycocosm. Please note that this copy of the genome is not maintained by NCBI and is therefore not automatically updated. JGI tools were used to automatically annotate predicted proteins.
Genome Reference(s)
Please cite the following publication(s) if you use the data from this genome in your research:
Yang R, Ao J, Wang W, Song K, Li R, Wang D
Disseminated trichosporonosis in China.
Mycoses. 2003 Dec;46(11-12):519-23. doi: 10.1046/j.1439-0507.2003.00920.x