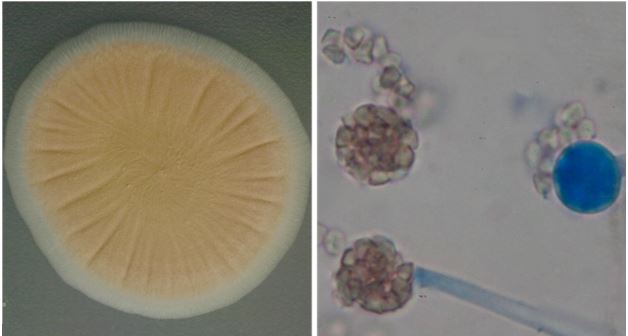 In the "1KFG: Deep Sequencing of Ecologically-relevant Dikarya" project (CSP1974), we aim to sequence additional sampling of genomic diversity within keystone lineages of plant-interacting fungi and saprophytic fungi that are of special ecological importance for understanding terrestrial ecosystems. In addition, comparative genome analysis with saprotrophic, mycorrhizal and pathogenic fungi will provide new insights into the specific and conserved adaptations associated with each fungal lifestyle.
The genus Umbelopsis is classified in the subphylum Mucoromycotina and it is commonly associated with rhizosphere soil and roots. The genus Umbelopsis is also, like other members of phylum Mucoromycota, characterized by its production of lipid bodies. Umbelopsis sp. PMI_123 was isolated from Populus roots and it has also been detected in amplicon-based studies from roots and rhizosphere soil from Populus and other tree species. However, the ecology and biology in association with plants is not well understood. This work is supported by the Genomic Science Program (U.S. Department of Energy) Plant Microbe Interfaces (PMI) Scientific Focus Area and by the DOE Joint Genome Institute through their Community Sequencing Program (CSP 1974, 1KFG: Deep Sequencing of Ecologically-relevant Dikarya, F. Martin PI).
References:
Bonito, G.M., Benucci, G.M.N., Hameed, K., Weighill, D., Jones, P., Chen, K.H., Jacobson, D., Schadt, C.W. and Vilgalys, R., 2019. Fungal-bacterial networks in the Populus rhizobiome are impacted by soil properties and host genotype. Frontiers in microbiology, 10, p.481.
Bonito, G., Hameed, K., Ventura, R., Krishnan, J., Schadt, C.W. and Vilgalys, R., 2016. Isolating a functionally relevant guild of fungi from the root microbiome of Populus. Fungal ecology, 22, pp.35-42.
Spatafora JW, Chang Y, Benny GL, et al. A phylum-level phylogenetic classification of zygomycete fungi based on genome-scale data. Mycologia. 2016;108(5):1028–1046. doi:10.3852/16-042