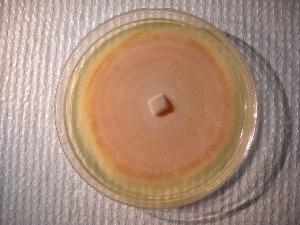 Umbelopsis ramanniana is a common and abundant soil fungus. Although the ecological role of this fungus in natural ecosystems is not yet known, it is a cosmopolitan saprotroph in soil, forest leaf litter, in animal dung, and on the spore-producing bodies of ascomycete fungi. Umbelopsis ramanniana has also been found growing as an endophyte within xylem tissue of both healthy and declining conifers but its exact effect on the plant hosts is unknown. Umbelopsis ramanniana is a representative of a unique group of zygomycete fungi that is distinct from the Mucoromycotina and Mortierellomycotina and instead forms an early diverging lineage within the Mucoralean fungi. Umbelopsis ramanniana is important from a biochemistry and biotechnology perspective because it is highly tolerant to fungicides of benomyl group and it is oleaginous (it regularly produces oils). Expression of Umbelopsis ramanniana Diacylglycerol O-acyltransferase 2A (DGAT2A) in seed increases oil in soybean without reduction of other important yield parameters. This increase in oil can potentially add over $1 billion to the annual value of soybean crops.
Genome Reference(s)
Please cite the following publication(s) if you use the data from this genome in your research:
Amses KR, Simmons DR, Longcore JE, Mondo SJ, Seto K, Jerônimo GH, Bonds AE, Quandt CA, Davis WJ, Chang Y, Federici BA, Kuo A, LaButti K, Pangilinan J, Andreopoulos W, Tritt A, Riley R, Hundley H, Johnson J, Lipzen A, Barry K, Lang BF, Cuomo CA, Buchler NE, Grigoriev IV, Spatafora JW, Stajich JE, James TY
Diploid-dominant life cycles characterize the early evolution of Fungi.
Proc Natl Acad Sci U S A. 2022 Sep 6;119(36):e2116841119. doi: 10.1073/pnas.2116841119