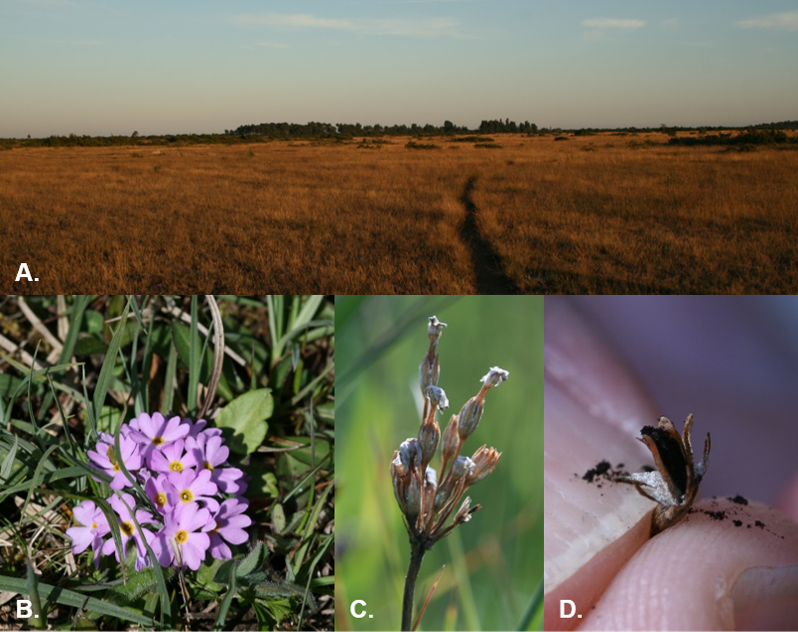 The genome of Urocystis primulicola was sequenced as part of the 1000 Fungal Genome Project and provides the first whole genome reference for the genus Urocystis. Researchers will use these data in phylogenomic reconstructions and in comparative genomics studies to investigate the evolutionary and functional basis of pathogenicity in this important and divers order of Ustilaginomycotina.
Urocystis primulicola is a smut fungi of the order Urocystidales (Ustilaginomycotina) mainly infesting the wet-grassland or calcareous fen specialist Primula farinosa L. (bird's-eye primrose). Along with its host, Urocystis primulicola occurs discontinuously across Europe with some congregations in the South of Sweden and at the Alps (Reisch et al 2005). Like other smut fungi, Urocystis primulicola produces black or brownish teliospores (Begerow et al 2014). These sporeballs typical comprise 3 to 15 spores surrounded by a layer of sterile cells (Vánky 2012). Germination of each teliospore leads to a small holobasidium that gives rise to 3-5 basidiospores, followed by generations of sporidia (Vánky 2012).
The strain RUB 030670 was isolated from a specimen collected by Ayco Tack near Stockholm. It was brought into cultivation by Tanja Rollnik (Dept. of Geobotany, Ruhr-Universität Bochum). It grows on diverse solid media and prefers low temperatures (8-16°C), but due to its hydrophobic nature, liquid cultivation is challenging. In the lab, spores, yeast-like structures, as well as hyphae can be observed regularly.
References:
Begerow, D.; Schäfer, A. M.; Kellner, R.; Yukov, A.; Oberwinkler, F.; Bauer, R. (2014): Ustilaginomycotina. In: The Mycota VII A Systematics and Evolution, 2nd Edition, 295–329.
Lienert, J.; Fischer, M. (2003): Habitat fragmentation affects the common wetland specialist Primula farinosa in north-east Switzerland. In: Journal of Ecology (91), S. 587–599.
Magnus, P. (1878): Verh. Bot. Vereins Prov. Brandenburg 20:53
Reisch, C.; Anke, A.; Röhl, M. (2005): Molecular variation within and between ten populations of Primula farinosa (Primulaceae) along an altitudinal gradient in the northern Alps. In: Basic and Applied Ecology 6 (1), S. 35–45. DOI: 10.1016/j.baae.2004.09.004.
Vánky, K. (2012): Smut fungi of the world. MN, St. Paul, USA: APS Press.