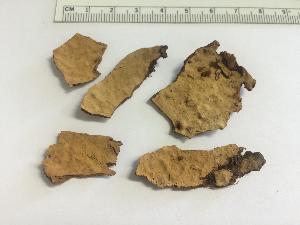 Vararia minispora EC-137 was sequenced as part of the 1000 Fungal Genomes Project. The fruiting body of this species is a brownish to mustard-yellow crust that forms on decaying wood. The family in which this species is found, the Lachnocladiaceae, has very unique and divergent morphological characteristics. So, we are interested in knowing whether species in this family also possess unique enzymatic systems to convert lignocellulose to biofuels and other useful products. Species in this family are known to produce white rot decay.
Genome Reference(s)
Please cite the following publication(s) if you use the data from this genome in your research:
Looney B, Miyauchi S, Morin E, Drula E, Courty PE, Kohler A, Kuo A, LaButti K, Pangilinan J, Lipzen A, Riley R, Andreopoulos W, He G, Johnson J, Nolan M, Tritt A, Barry KW, Grigoriev IV, Nagy LG, Hibbett D, Henrissat B, Matheny PB, Labbé J, Martin FM
Evolutionary transition to the ectomycorrhizal habit in the genomes of a hyperdiverse lineage of mushroom-forming fungi.
New Phytol. 2022 Mar;233(5):2294-2309. doi: 10.1111/nph.17892