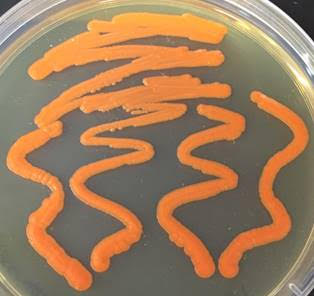 Xanthophyllomyces dendrorhous ATCC 74221/UBV-AX4 (formerly Phaffia rhodozyma) is a red-pigmented basidiomycete yeast. This strain is the result of multiple rounds of chemical mutagenesis and selection for astaxanthin overproduction, producing 4.67 g astaxanthin / g dry yeast solid in a 14 L fermenter (Jacobson, 1995).

This strain was obtained from the ATCC, and was deposited by Universal Foods Corporation.
The Xanthophyllomyces dendrorhous UBV-AX4 genome was not sequenced by the JGI. The assembly was provided by Eric Young and it was annotated using the JGI Fungal Annotation Pipeline.
References:
Jacobson GK, et al. Astaxanthin over-producing strains of Phaffia rhodozyma. US Patent 5,466,599 dated Nov 14 199