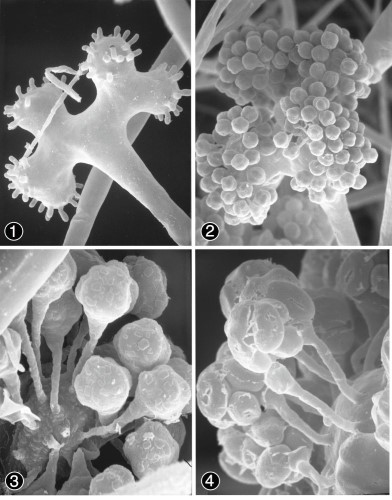 Zychaea mexicana RSA 1403 Benny & R.K. Benj. is a zygomycete fungus that was originally classified in the family Thamnidiaceae (Benny and Benjamin 1975 within the Mucorales. However, because this family was discovered to be polyphyletic (O'Donnell et al. 2000), it was reclassified in the Lichtheimiaceae (Hoffmann et al. 2013). It was isolated from dung collected from Mexico and is only known from the type material (Benny & Benjamin 1975). Zychaea produces simple or branched, terminal or lateral sporangiophores that may be single or multi-lobed (Fig. 1). Sporangiola are globose to ovoid, possess a swollen columella, and are few-spored with a persistent sporangial wall (Figs. 2-4). Sexual reproduction is unknown. Sequencing of Z. mexicana will advance the 1000 Fungal Genome Project by providing a representative genome for the Lichtheimiaceae, an important family of "zygomycetes" and additional insight into the evolution of dung decomposition among early diverging fungi.

References:
Benny, G.L., and R. K. Benjamin. 1975. Observations on Thamnidiaceae (Mucorales). New taxa, new combinations, and notes on selected species. Aliso 8:301–351.
Hoffmann, K., J. Pawlowska, G. Walther, M. Wrzosek, G. S. de Hoog, et al. 2013. The family structure of the Mucorales: a synoptic revision based on comprehensive multigene-genealogies. Persoonia 30:57–76.
O'Donnell, K., F. M. Lutzoni, T. J. Ward, and G. L. Benny. 2000. Evolutionary relationships among mucoralean fungi (Zygomycota): Evidence for family polyphyly on a large scale. Mycologia 93:286–296.
Genome Reference(s)
Please cite the following publication(s) if you use the data from this genome in your research:
Chang Y, Wang Y, Mondo S, Ahrendt S, Andreopoulos W, Barry K, Beard J, Benny GL, Blankenship S, Bonito G, Cuomo C, Desiro A, Gervers KA, Hundley H, Kuo A, LaButti K, Lang BF, Lipzen A, O'Donnell K, Pangilinan J, Reynolds N, Sandor L, Smith ME, Tsang A, Grigoriev IV, Stajich JE, Spatafora JW
Evolution of zygomycete secretomes and the origins of terrestrial fungal ecologies.
iScience. 2022 Aug 19;25(8):104840. doi: 10.1016/j.isci.2022.104840