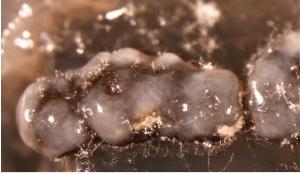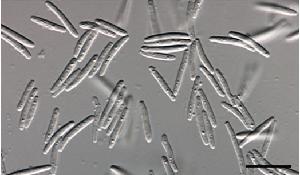 Zymoseptoria pseudotritici is a hemibiotrophic pathogen within the family Dothideomycetes. It is closely related to the wheat pathogen Zymoseptoria tritici (synonym Mycosphaerella graminicola).
Z. pseudotritici was identified and isolated from two distinct grass species Elymus repens and Dactylis glomerata in a northern province of Iran, Ardabil, in 2004. In spite of its close relatedness with Z. tritici, Z. pseudotritici has never been isolated from cultivated wheat, nor has it been identified at other locations. Z. pseudotritici has a hemibiotrophic lifestyle involving a long symptomless latent period followed by the induction of necrosis and asexual spore production. The pycndiospores spores produced by Z. pseudotritici are smaller than pycndiospores produced by Z. tritici (1 septae, 7–22 X 2.5–3 µm.
The close relatedness to Z. tritici has made Z. pseudotritici an excellent model for studies of genome evolution and speciation within the Zymoseptorias. Evolutionary genome studies have revealed that Z. pseudotritici is a hybrid species that originated recently from an interspecific hybridization event between closely related but distinct Zymoseptoria species.

Relevant literature:
Stukenbrock EH, Quaedvlieg W, Javan-Nikah M, Zala M, Crous P, McDonald P. 2012. Zymoseptoria ardabilia and Z. pseudotritici, two progenitor species of the septoria tritici leaf blotch fungus Z. tritici (synonym: Mycosphaerella graminicola). Mycologia doi:10.3852/11-374
Genome Reference(s)
Please cite the following publication(s) if you use the data from this genome in your research:
Stukenbrock EH, Christiansen FB, Hansen TT, Dutheil JY, Schierup MH
Fusion of two divergent fungal individuals led to the recent emergence of a unique widespread pathogen species.
Proc Natl Acad Sci U S A. 2012 Jul 3;109(27):10954-9. doi: 10.1073/pnas.1201403109
Stukenbrock EH, Bataillon T, Dutheil JY, Hansen TT, Li R, Zala M, McDonald BA, Wang J, Schierup MH
The making of a new pathogen: insights from comparative population genomics of the domesticated wheat pathogen Mycosphaerella graminicola and its wild sister species.
Genome Res. 2011 Dec;21(12):2157-66. doi: 10.1101/gr.118851.110