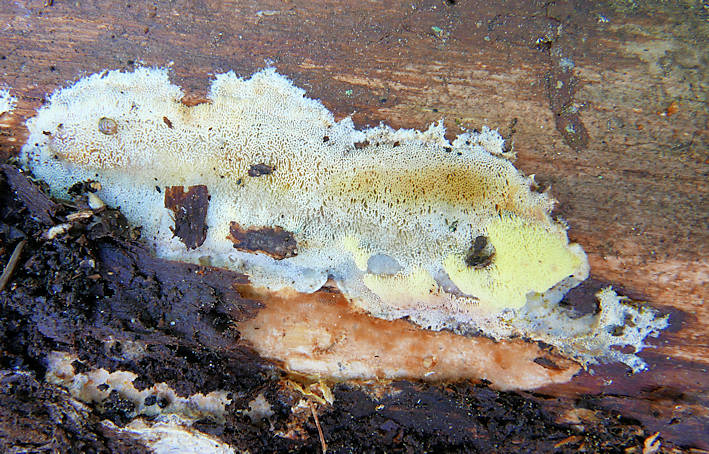 In the "1KFG: Deep Sequencing of Ecologically-relevant Dikarya" project (CSP1974), we aim to sequence additional sampling of genomic diversity within keystone lineages of plant-interacting fungi and saprophytic fungi that are of special ecological importance for understanding terrestrial ecosystems. In addition, comparative genome analysis with saprotrophic, mycorrhizal and pathogenic fungi will provide new insights into the specific and conserved adaptations associated with each fungal lifestyle.

Antrodiella citrinella OMC 1724

Antrodiella citrinella is a characteristic European polypore species with citric yellow fruiting bodies when fresh. This species is a successor species of Fomitopsis pinicola, meaning that it only inhabits trunks occupied by another polypore species, F. pinicola (Niemelä et al. 1995). A. citrinella, itself a white-rotter, is able to outcompete F. pinicola, a brown-rotter, when mycelia of the two species are faced against each other (Holmer et al. 1997). A. citrinella has evidently specialized to target F. pinicola to the degree that it is not found in nature without its predecessor.

Although F. pinicola is one of the most common wood decay fungi in Northern Europe, A. citrinella is much rarer, found in areas with abundant, Fomitopsis-colonized dead wood only, usually in old-growth forests (Ryvarden & Melo 2016). The species is red-listed in several European countries.

A. citrinella belongs to the family Steccherinaceae in the order Polyporales. It is the second species from this family with its genome sequenced along with Albatrellus peckianus. The genome will help to resolve phylogeny of the Polyporales, and the "residual polyporoid clade" in particular. It will also serve as a reference genome in population genomic studies of the species and provide another reference white-rot genome for functional studies on wood decomposition.

Researchers who wish to publish analyses using data from unpublished CSP genomes are respectfully required to contact the PI and JGI to avoid potential conflicts on data use and coordinate other publications with the CSP master paper(s).
References:
Holmer L, Renvall P, Stenlid J (1997) Selective replacement between species of wood-rotting basidiomycetes, a laboratory study. Mycol Res 101 (6):714-720. doi:10.1017/s0953756296003243
Niemelä T, Renvall P, Penttilä R (1995) Interactions of fungi at late stages of wood decomposition. Ann Bot Fenn 32 (3):141-152
Ryvarden L, Melo I (2016) Poroid fungi of Europe. vol 37, 2nd revised edition edn. Fungiflora, Oslo