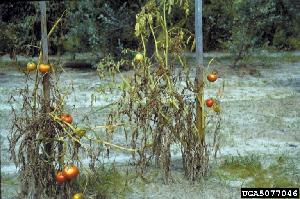 The genome of Fusarium oxysporum f. sp. lycopersici strain 4287 (race 2, VCG 0030) was sequenced by the BROAD Institute. In order to allow comparative analyses with other fungi, a copy of the genome of F. oxysporum is incorporated into MycoCosm. The following text was copied from the BROAD website:
Members of the Fusarium oxysporum species complex (FOSC) are the most common phytopathogenic Fusaria. They cause vascular wilts of over 100 cultivated plant species, including tomato, potato, sugarcane, bean, cowpea, date and oil palm, as well as cooking and dessert bananas (Beckman 1987, Moore et al. 2001). Tomato wilt, caused by F. oxysporum f. sp. lycopersici, has been reported in at least 32 countries worldwide (Jones et al., 1991). While plant disease resistance genes have been identified for the effective control of tomato wilt, new races of the pathogen continue to develop, overcoming deployed resistance and thwarting tomato breeding efforts (Cai et al., 2003; Gale et al., 2003). Because it is a long-lived, soil-borne pathogen, infested soil remains contaminated indefinitely, so only resistant varieties can be grown on that site. Sequenced strain information: Fusarium oxysporum f. sp. lycopersici strain 4287 (race 2, VCG 0030) was selected for sequencing. The strain is available from the Fungal Genetics Stock Center (FGSC 9935) and NCAUR/USDA (NRRL 34936). The genome size is estimated to be 59.9 Mb.
This strain was originally isolated from an infected tomato plant. In addition to tomato, it also infects Arabidopsis thaliana where it induces typical wilt symptoms. This characteristic permits extensive investigation of host-pathogen interactions, pathogen infection, and plant defense mechanisms, using the model plant system A. thaliana. Based on intensive study over the past 10 years, this strain has displayed remarkable phenotypic stability, including mycelial growth on different culture media, sporulation and high virulence. This strain is also highly amenable to transformation, via both protoplasts and Agrobacterium tumefaciens, and transformation-mediated gene disruption (Di Pietro et al., 2003). A mitotic linkage map was created from the protoplast fusion of two strains of F. oxysporum f. sp. lycopersici, VCG 0030 (Teunissen et al. 2003). A novel and highly efficient gene knock-out technique and molecular cytological tools also have been developed (Khang et al. 2005).
Genome Reference(s)
Please cite the following publication(s) if you use the data from this genome in your research:
Ma LJ, van der Does HC, Borkovich KA, Coleman JJ, Daboussi MJ, Di Pietro A, Dufresne M, Freitag M, Grabherr M, Henrissat B, Houterman PM, Kang S, Shim WB, Woloshuk C, Xie X, Xu JR, Antoniw J, Baker SE, Bluhm BH, Breakspear A, Brown DW, Butchko RA, Chapman S, Coulson R, Coutinho PM, Danchin EG, Diener A, Gale LR, Gardiner DM, Goff S, Hammond-Kosack KE, Hilburn K, Hua-Van A, Jonkers W, Kazan K, Kodira CD, Koehrsen M, Kumar L, Lee YH, Li L, Manners JM, Miranda-Saavedra D, Mukherjee M, Park G, Park J, Park SY, Proctor RH, Regev A, Ruiz-Roldan MC, Sain D, Sakthikumar S, Sykes S, Schwartz DC, Turgeon BG, Wapinski I, Yoder O, Young S, Zeng Q, Zhou S, Galagan J, Cuomo CA, Kistler HC, Rep M
Comparative genomics reveals mobile pathogenicity chromosomes in Fusarium.
Nature. 2010 Mar 18;464(7287):367-73. doi: 10.1038/nature08850