Help Home > Alignment Search > Viewing Alignment Results
Viewing Alignment Results
After clicking "Run" from the Alignment Query page , you will be taken to the Alignment Results page. Initially, you will see only the Job Status panel , where you can monitor the progress of jobs in your run.
When the run is complete, your results will be displayed in three additional panels:



Each of these panels can be collapsed or expanded by clicking on the panel title.
Repeating/Reviewing your search and setting the Hits Limit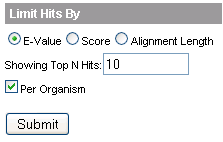 At the top of the Query Results page, above the Job status panel, you will find some options to review, save and configure your BLAST results
Click on Query Form to return to the Query Page and alter your search.
Click on View Query to review the query sequence(s) used in the current search in a text box.
Click on Save Results to store these results for later review from your myPortal page (see below).
Click on Limit hits displayed on the page to return a limited number of hits based on e-value, alignment score or Alignment Length. If Per Organism is checked, the results will be limited to the top N hits for each organism in the query, and opposed to the top N hits total for all organisms.
Saving and Reloading search results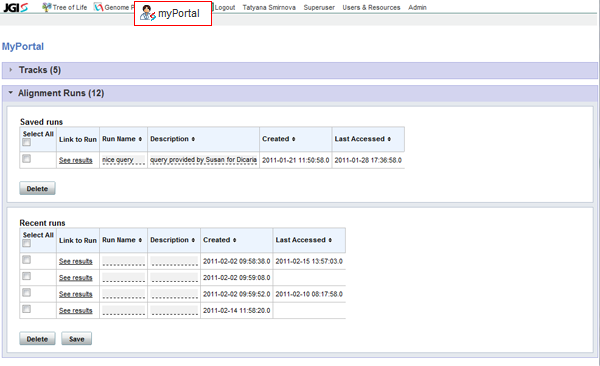 If you are a logged in as a registered JGI user, all alignment searches you run are stored on your myPortal page and can be reloaded whenever you want without having to repeat the query. By default, alignment search results will be available for at least one week from the time you run them.
You can also choose to name and permanently save alignment search results. Click the Save Results button at the top of the page to enter a name and description for your results. These results will be listed on your myPortal page for future use.
Quick Tips
You can share Alignment Search results with your colleagues by simply copying and e-mailing the url for your results page. If you Save Results as described above, this url will be valid indefinitely.